The Konnekt Dementia Phone
Konnekt is the first dementia phone that
Addresses cognitive decline. Recent studies demonstrated improved cognitive function in just 6 weeks of increased face-to-face social engagement;
Enables those with dementia to make phone calls, more easily than any phone we've seen; and
Allows nominated sons, daughters and carers to check in visually.
Dementia, the Biggest Killer
Dementia is said to be the cruelest disease because it causes 2 deaths: The slow extinction of the personality, followed by departure from life.
If your family member has dementia, you CAN make a huge difference to their quality of life.
8 ways to help parents with dementia
Konnekt paper: Learn about modifiable risk factors, and read evidence-based methods you can use to make a difference.
Dementia study: Face-to-face conversation helps
Increased social interaction via daily face-to-face calls for 6 weeks were recently shown in an OHSU study to be a promising intervention for improving cognitive function. This is great news for family members unable to travel, too busy or too far away to visit often.
Is your parent suffering from, or at risk of dementia? A user-friendly interface is key to acceptance and adherence. If it's easy, they'll keep using it
Take the Dementia Carer Quiz
Are you doing everything you can for your elderly parent?

Click here to get started
Dementia: What can YOU do to help?
The Konnekt Dementia Phone
The Konnekt Videophone helps dementia sufferers in 3 ways:
Face-to-face social interaction. Increased social interaction via daily video calls were shown in a medical study to improve cognitive function after just 6 weeks.
Independence & social engagement. One touch to connect. Nothing to remember. Incredibly simple.
Check in, visually. Auto-answer with 2-way video allows visual check-in by sons, daughters and carers.
The world's easiest Alzheimer's / dementia phone
Nothing to remember. No menus, logins or icons.
No skills required. No keyboard/mouse. No pop-ups.
Calls mobiles, iPads/tablets & computers face-to-face.
Calls landlines, too. GPs, older family, backup numbers.
Always ON. Nothing to charge or switch on. No modes.
One touch to call. Zero touch to auto-answer carers.
See the name of the caller. Blocks unknown callers.
Easiest solution for sons, daughters, carers
Konnekt does EVERYTHING for you: Setup, personalization, call quality optimization. We even help your family get on Skype.
We keep it going, too. We're your I.T. support. And we do all changes for you, remotely.
Try it for 30 Days
Fiddly, complicated devices
Teaching a geriatric you care about to use a tablet PC or mobile is frustrating.
Logins, menus, pop-ups and fiddly little icons make them feel stupid.
Online scammers are a costly and terrifying threat to the vulnerable.
Wendy says her Videophone is simpler than a telephone.
Do Seniors Tablets work?
Our market research found that most geriatric over 75 have trouble using even the simplest tablets designed for seniors.Read more…
We call these top-drawer fillers. They end up in the top drawer, along with other unused gadgets!
The Konnekt Solution
That's why the founders of this company, Karl and John, created the Konnekt video phone. They saw the needs of their own parents to see their family and friends, as often as they wanted, without the travel.
30-Day Trial
Recommended for Aged Care
Featured on Over-50s Guide
As seen on TV, on the Over-50s Guide, in RACV magazine, at ATSA 2018 Conference and Dementia & Recreation 2017.
Used in Nursing Homes and Independent Living
Recommended for and used by those with dementia or acquired brain injury, including SummitCare residential aged care in Sydney and Community Living Centre in Vancouver.
Winner, Best Product in Aged Care
For those with dementia, or at risk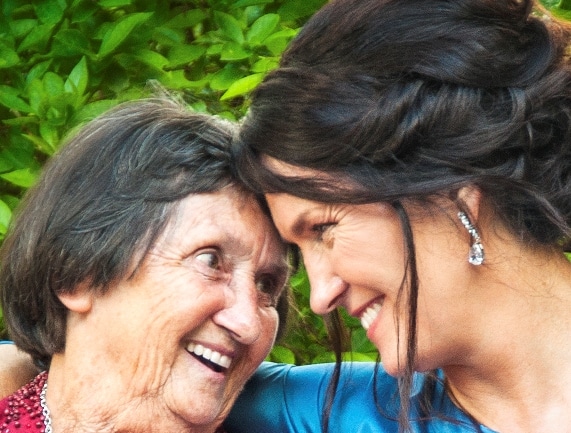 Videophone Saves its First Life
Dementia prevented Judy from reporting her illness. Daughter Cheryl saved her life. Read how.
Lower Depression Risk
Social isolation is bad for your mental health, and regular face-to-face social interactions are likely a great way to help prevent depression.— Prof Alan Teo, M.D., M.S., Assistant Professor of Psychiatry, Oregon Health & Science University
Dementia Specific Key Features
Enables vital face-to-face conversation, with an easy user interface for greater acceptance/adherence
One-touch named call buttons – world's easiest phone, ever
No menus, icons, charging – nothing at all to remember
Auto-answers trusted carers, with 2-way video – reduces worry
Blocks telemarketers, scammers, fraudsters – increases safety
Noel's Cognitive Improvement
Noel has severe dementia. He couldn't recognize his own daughter Valery on the telephone. It was heartbreaking for Valery because she lives 4 hours away and was unable to see Dad face-to-face often. Until…

Noel's new Videophone was set up to Auto Answer Valery's calls. Valery persisted over many weeks, speaking to him face-to-face. Thanks to the many dementia-specific features and Konnekt's constant adjustments, Noel started to remember his daughter. He is now answering calls without Auto Answer, and dialing Valery independently.

We've seen Noel's improvement with our own eyes, and the medical evidence supports it. This is only one example.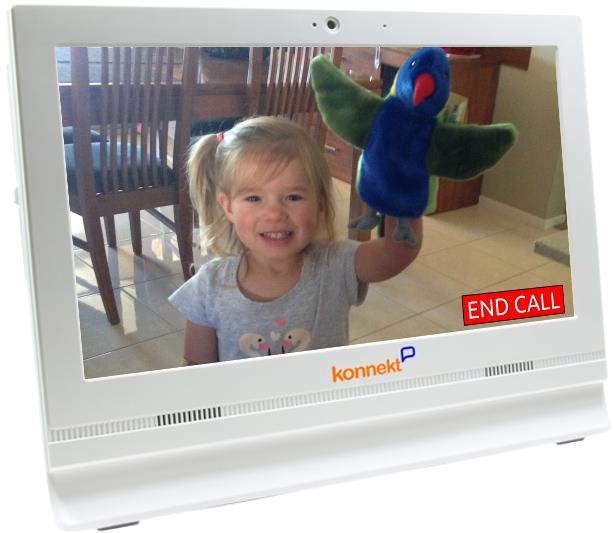 Try it for 30 days. No risk.
Don't wait for the memory loss to get worse.
Find out now whether you qualify for a no-obligation trial.
Or Contact Us.